Breathless (1959) Dir: Jean Luc Godard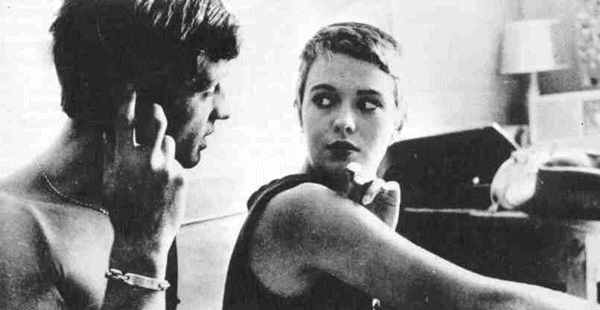 The epitome of cinematic cool, Jean Luc Godard's debut, Breathless (A Bout De Souffle) is a stylistic tour-de-force from beginning to end. Upon its initial release, back in 1959, both audiences and critics alike applauded its unconventional and rare approach to filmmaking, while at the same time admiring the burst of power it gave to French cinema; it won various international awards and became an unexpected box-office triumph. What it did for film it did for its director: not only did it help in further weaving the French New Wave movement, it also introduced Godard to a new generation and confirmed him as one of the most talented and creative foreign directors. It completely changed the face of cinema and, even today, stands as one of the most influential and greatest films ever made.
Jean Luc Godard was a former Les Cahiers du Cinema critic, a French film magazine to which artists such as Truffaut and Rohmer contributed. They watched approximately 1,000 films a year and thus Godard had a source to find all the cinema-related knowledge from. There is no denying that with Breathless, Godard didn't only pay tribute to American films, as he used everything he knew about filmmaking to great effect.
Godard was once famously quoted as saying, "All you need to make a movie is a girl and a gun." And that's precisely what we have here. A girl. And a gun. Throw in a man whos' interested in the girl and there you go, we have a film that's now all then more complex. One can't say that the plot of Breathless is exactly what one could call complicated. Indeed, it's incredibly simple and the less you know, the better: it's a fast tale of a young man on the run in Paris at the end of the '50s who meets the stunning Jean Seberg, a 20-year old New Yorker who sells the International Herald Tribune along the boulevards of Paris. As the film goes, their relationship develops, reaching what is an indescribably tragic ending.
While watching Breathless for the first time, I could not help but think that what I was watching was a real spectacle. There is nothing colossal or monumental about the picture; on the other hand, it's rather straightforward, simple and intimate. What turns it into spectacle, however, is the way it's told. The narrative structure is loose and disorganised - it's not that its broken, told in reverse or anything; you just get that strange feeling of non-linearity. Shot in a grainy, stark black and white with a hand-held camera in natural light, the picture has a documentary-like feel to it, meaning that, despite being a film, it often feels like it's not. We are transported to the streets of Paris, or to the bedroom of two lovers and not even once did I feel as though they were standing on a set. It all felt so real, so authentic and genuine. This visual style has often been compared to Italian Neo-realist classics like The Bicycle Thief or Miracle in Milan, but what turns it into a completely different thing is that the film has no rules, really. The film does not have any rules. It does not follow a How to Make a Good Film pocket book. There are no cinematic regulations, no laws and no order - they're not broken; they simply do not exist. Characters and walking-by pedestrians stare directly into the camera, constant, sudden jump cuts occur in midshots, the camera restlessly moves to an fro, back and front, left to right, capturing the characters' emotions with great ease while at the same time providing them with more freedom to act and adapt to the circumstances. Improvising took place a lot too, and this is clearly visible during some of the film's scenes. It all helps in constructing a sense of palpable reality, even though Godard constantly reminds us that we're just watching a film, nothing more and nothing less.
There is a lot to admire in Breathless. The acting, for example, is extraordinary: Jean Paul Belmondo is sensational as the foul-mouthed Michel Poiccard, portraying him with bizarre finesse and classy sexual magnetism. He plays a woman hunter, a ruthless thug who tries to be like Humphrey Bogart, kills for no reason and constantly beds different women, both for sheer pleasure and (supposedly) for love. He's a despicable personage, worthy of any American film-noir film, an individual who likes to talk about love yet seldom truly finds it, despite his interminable search for it. Cigarettes, hats, sunglasses and determined unconformity make Michel Poiccard a real cinematic icon.
Jean Seberg is phenomenal as Patricia Franchini; sweet-looking, innocent and with no real direction or path in life, her performance is as great as it is unique - Breathless was one of the very few highlights of her poor career that apart from Lillith made her slightly famous. Patricia is a character looking for something; what exactly she does not know, but there is something in her heart which she somehow has to obtain. Is it love? Is it an escape? Is it death, friendship, sex? She;s possibly pregnant, and despite the usual press conferences she does for the paper she has no real goal. Her internal uncertainty is as uncertain for her as it is for us, as we never get to know what she truly was seeking, not even at the end. Even so, she does not refuse Michel, though she won't commit to him, she will not give herself to him. All we know is that she;s not entirely comfortable with her life, as though something was missing, like a chain that lacks a link.
Breathless is essentially a character study. It;s a film about psychology. It deals with people and the situations they often find themselves immersed in. It;s a film about the human character, nice and clear. Though we may not necessarily like the characters, there simply is no denying that we might somehow relate to them and their emotions. Michel and Patricia are both trapped in a cage. One;s running away from the cops, the other is running away from the harsh reality of life. Breathless is about running away. No matter what it may be, it;s something we;re all constantly doing. Aren;t we all? Is it not true that we often try to escape and plunge ourselves into something completely different, into a world of our own? Godard weaves the pains and pleasures of the characters' lives with attention to detail and impressive delicacy; he does it all masterfully.
One can consider Breathless to be a romance. Alas, I could not agree more - of course it's a romance. We simply have to see the DVD cover in order to realise that. Breathless is about forbidden (or perhaps impossible) love and this is clearly depicted with several references made to Shakespeare's Romeo and Juliet. But it's not just that; it's about betrayal, murder, robbery which is what provides the film with admirable shades of film noir. It all leads to that, really; cigarettes, guns, stolen cars, sexy galic exchanges and a sharp and catchy Jazz score with a love story set in the coolest of cities practically amount to the film-noir genre. The man on the run, the chasing cops, the unaware girl - it certainly does depend on how you look at it, but since Breathless is a film of many dimensions and layers this interpretation could be valid enough.
On another level, however, Breathless is a comedy. And a subtle one at that. What with all the constant comparisons between the American and the French, the way Swedish girls are not as people say they are, etc. It's more of a sort of satire, as Godard, instead of writing his criticisms as he used to do, merely films them.
François Truffaut once stated, "There is the cinema before Godard and the cinema after Godard." Bright, fast dynamic and ineffably distinct, Breathless does not just convince, it astounds. Its high artistic quality is as stunning as it was forty-four years ago and its subject matter still manages to be relevant. Godard created a film that has proved to be able to successfully pass the test of time while at the simultaneously improving with age. It's enduringly appealing, genuinely brilliant and simply splendid; a seminal film to see again and again.
[96]